Stuart Lightbody's Little Lies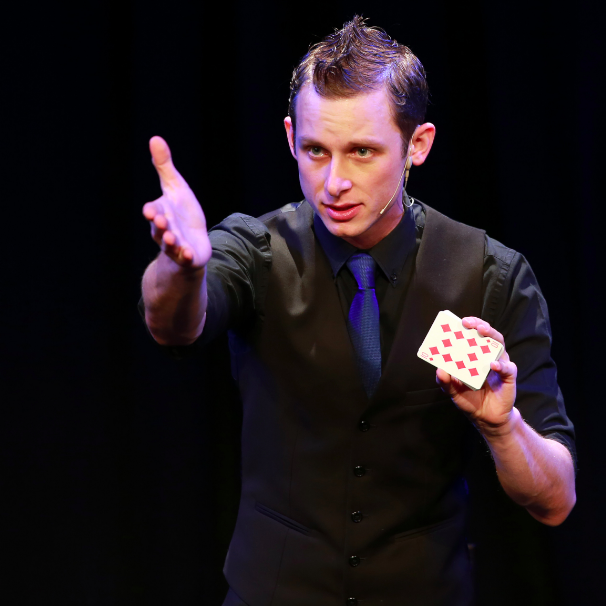 Just back from Fringe World Australia. This show contains some of his very favorite wonders from his performances at Amsterdam Fringe, Prague Fringe, Brighton Fringe, Cape Town Fringe, Grahamstown Fringe and Adelaide Fringe. Plus some brand new impossibilities!
Stuart has been nominated for the ABC Performance Award once and the Artrage Theatre Award three times at the Fringe World Festival. He has also won 4 Standing Ovation Awards at the Grahamstown National Arts Festival in South Africa. He is a winner of the Creative Award at the Prague Fringe, and a Best of Fest Award at Adelaide Fringe Festival.
"Stuart Lightbody is a well spoken affable young man, lucky to be alive in the 21st century – otherwise he'd be burned as a witch."- Adelaide Advertiser

"…everyone he invites up onto the stage becomes part of a quite amazing disruption of everyday belief" – Adelaide Advertiser

"… he replaces normal human gullibility with an awestruck sense that what you have seen has to be magic" – Adelaide Advertiser

"The gasps and disbelieving shrieks from his audience are testament to his skill. Every part of the performance is breathtaking and so elegantly executed you find yourself, if only for a moment, believing in magic." – Cape Times

"…beautifully impossible while still being impossibly beautiful." – Cape Argus

"… an unreal experience that relies on pure artistry to entertain." – Cape Argus

Media & Reviews
So let Stuart Lighbody lie to you, it just might be the best lie you're ever told.

Review
Audience Responses
The 4th performance we've watched of his - and we're as amazed as ever! Stuart is really talented!
It was astounding! The time really flew buy being entertained and bedazzled, good audience participation, funny and a great magician!
This bloke continues to amaze me.
Awesome, as always! Brilliant :) See you soon again, hopefully, for the next Show ;)
Mesmerising. Will definitely attend again.
I am convinced that Stuart is actually truly magical. There is just no way that what he does is even possible. So charming, so witty, so smart, so MIND BLOWING. Seriously a world class illusionist.
Mind blowing performance by Stuart! I'll be coming back for his next show!
Mind-blowing, as always!
Excellent rapport with the audience. Lovely story telling. Show seemed too short because it was so fun. Amazing illusions. If any criticism it would be to maybe see more variety (there were quite a few pick-a-card tricks - all cool but maybe more variation?)
Funny, engaging and mind blowing!
Brilliant show. We were all blown away.
More of his shows!!!!
Slick professional and very enjoable show. Will definately book to see him next time. Highly reccomended.