The Spinster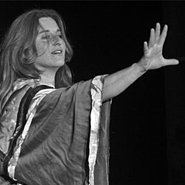 Come in. Sit down. Don't be boring. The Spinster has some stories for you. She's mad and wild and outrageously rude but, if you promise not to interrupt, she'll probably let you stay for a drink. Or seven. Drawing inspiration from the political satire of Franca Rame, Lecoq's 'Buffoon' and female archetypes, 'The Spinster' is a rowdy new play written and performed by Kyla Davis, directed by the inimitable James Cairns.

'Beware of the spinster! Visit her at your own peril! She is outrageous, irreverent and absolutely inappropriate. Kyla Davis's new play, The Spinster is all these things. It is also very funny, insightful, and in its own way quite sad.' - Keith Millar
More info on Facebook.
Media & Reviews
Review of The Spinster by Eugene Yiga
Review of The Spinster by David Fick
Audience Responses
This was truly one of the best plays I have ever seen. The script was brilliant - laugh-out-loud funny, yet poignant, with unexpected spurts of wisdom between her hilarious reminiscing. The acting was superb, she really brought the character to life. Makes one think about your own life and whether you are living up to your potential and living a "wild life"! The bar downstairs it also just fabulous! The phones are a great addition, for extra fun! Olivia
Was my first time at the venue, and I had a great experience. Loved the show!
Great text, and Kyla is enchanting on stage. Well done!
Kyla was amazing!! I really enjoyed her show, scary how realistic it was at times... Excellent!
I loved the play and its content, and certainly she is a fine actress. I couldnt help thinking of someone like Fiona Ramsey in the role which would result in more autheticity. She was a little young for the role and a little bit caricatured. Tracey and Claire
First time visitor to Alexander B & C - loved the venue! Enjoyed the use of audience as "the visitor" but actress waited too long as if expecting participation and made a few members uneasy. Brilliantly nuanced facial expressions - one could see exactly what she was thinking. It succeeded in making me relive my youthful feelings of "My Life is about to Happen" but then doesn't quite! Parts of it a little bit over the top, but difficult to be specific. Overall, most enjoyable and the 3 of us will be back! We were pleasantly surpised at the youthful audience (being 1 50 and 2 60 year olds).
brilliant acting, great story, enormously funny! Please bring her back!
Very good energetic & physical acting. I thought the script however did not resolve issues adequately in the end. Stars 3,5.
A sassy performance by a woman who is going places. Davis gives spinsters a whole new spin and she does it with flair.
Was a great performance. Have recommended to friends regards
Kyla was amazing. Such a lovely intimate space. Had a fantastic evening, thanks to all!
Good entertainment on a rainy evening. Would have liked a little more poignancy & angst coming through what was obviously a not-so-happy-go-lucky wild life!
Brave , ballsy performance , great writing as well - great night out at the Alexander Bar. Will definitely be back
I had a great experience. eyeopening and exhilarating
I loved it. Not something I've done before but immensely entertaining and intimate theatre experience definitely something I'll do again.
Music part was a bit loud.
I thought the work was more of a WIP than a polished show. Once again Alexander cafe was the perfect spot and was amazing! Food and drinks were great - Vibe is awesome, staff are fantastic
This is Candace DiTalamo. I saw the show with Maria and thought that it was brilliant. Short, sad, hilarious, sexy and very well written.
Brilliantly written and performed, The Spinster made me laugh and also moved me. Seeing the transformation from excited young girl who dreamed of seeing the world to a 'woman gone to seed' hit rather too close to the mark for comfort!
rating=5 alas i have very little in common with the spinster in terms of trans-atlantic sexual escapades... but i find the intensity of the performance (particularly if your sitting in the second row)and her genuine madness quite endearing....push button..replay...
Fabbbulous!! 5
Excellent performance and I really enjoyed the ambience and food downstairs
Fantastic performance, and courageously written piece by Kyla Davis.
5 out of 5. brilliant play, brilliantly executed. we all loved it. thanks and congratulations to Kyla
Excellent performance and I really enjoyed the ambience and food downstairs
Well done
A Fabulous and entertaining performance. Really enjoyed it. Thanks!