Ménage à Trois: Immaculate Inception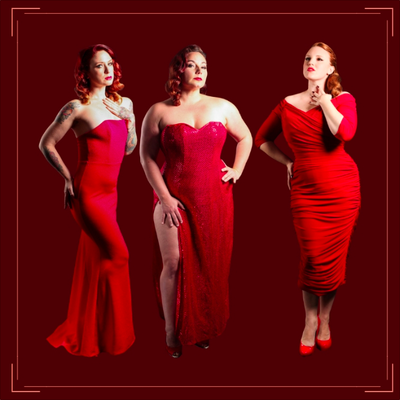 Ménage à Trois is a new, boundary pushing, performance event celebrating everything that is risque and taboo about burlesque. From the erotic to the political, Menage a Trois provides a space for performers and audiences to revel in the provocative, the piquante and the progressive. Three of Cape Town's favorite burlesque babes (with a few extra special guest stars) bring you magnificent new acts to dazzle and delight.
Meet the creators:

Scar-lit Hearts is sizzling, sultry and oh so seductive, a mesmerizing contradiction of sweet cheekiness and blistering sexuality. As one of Cape Town's most illustrious burlesque artistes, Scar-lit Hearts is a master of the art of strip-tease. Catch her dancing each night... If you dare.
Jezzy Belle, Burlesque Artiste is the saucy siren of Cape Town Burlesque scene, her silken voice will enthrall and ensnare you like the sailors of old. But don't be fooled, her voice is not her only appeal. This curvy Queen owns every stage she graces with her unique combination of old-world charm and sizzling sexuality. She entices as she seduces, her cheeky smiles luring you through her lashes as she bumps and grinds her way into your… um… hearts. Catch her each night ... if you ask nicely.
Well known for putting the talon into talented, The Velvet Letter returns to the boards with magnificent new acts and an insatiable appetite for sensation. Raucus, irreverent, playful: a riot from the first sparkle to the final punchline. On stage every night and looking forward to meeting the brave folks in the front row.
Meet our kitten:
Statuesque, mature and gorgeously curvaceous, the Red Baroness knows what she wants, when she wants it, how she wants it and who she wants it from! Thehe sway of her hips and shimmy of her bosom could mesmerize any audience.
LeStat is a sensual serpentine gentleman whose curves will hug yours. Called cold-blooded by many, the glide of his touch and a hiss on your hand produce heated thrills never felt before!
(A stage kitten is an essential part of any burlesque show - someone has to gather the saucy bits once we've stripped out of them!)
Meet the guest performers:
Thursday's guest artist Penny Pinup:
A little bitchy, a lotta sassy, with a sizzling new act.
Friday's guest artist Baby Ray:

This delightful burly beauty will both enchant and excite you with her spell-bound smile and ready-to-eat charm. Her fabulous mix of both classic and playful burlesque will have you writhing in sensual anticipation and leave nothing but the sweetest of tastes on your tongue as she unveils a new performance.
Saturday's guests Sophia Von Syren and Lady Magnolia!
Join us for the climax of our first production - double the trouble with two guests and a complimentary glass of bubbles included in your ticket price;)
Miss Sophia Von Syren stays true to the essence of burlesque – the tease. She seduces the imagination with a sultry wink, a mischievous smile, a dash of wicked and a thrust of brazen. Brace yourselves for the uncensored version of her glorious pearl act!
Radiating old world elegance and charm, Lady Magnolia Burlesque Artist embodies the goddess of love and sensuality. With effortless grace, she weaves her magic, reminding us all that goddesses do not rule the world, they are the world. Bringing a delightful new act, created specifically for this show.
Audience Responses
bloody fantastic
What an amazing show! These ladies know how to put a smile on my face!
An absolutely awesome show, loved it.
I enjoyed every minute of the show. It totally met my expectations.
Simply incredible. Pushing the boundaries of burlesque, so thoroughly thought out down to ever sequin.
I thoroughly enjoyed the evening and appreciated the initiative and creativity of the performances
Brilliant ! An amazing evening
What a spectacular performance! Brilliantly produced, funny, sexy and daring. Those women have sass and sex appeal and power oozing from their pores and know just how to get the audience squirming in their seats. Laughed and clapped and whistled and screamed until I was hoarse.
Brilliant! Loved every second of it! Xxx
was a fabulous show.
The show was liberating and inspirational. The ladies love of burlesque radiated off every act; a pleasure to watch.
Excellent show and thoroughly entertaining