Half Leeg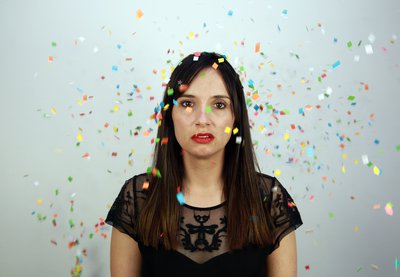 It's 2am. The barman has called last rounds. The Romantic sits in the corner, stirring her whiskey with a straw, watching the door, waiting for him to arrive... "Half Leeg" features Cintaine Schutte, who's just a girl, waiting in a bar, for.... well, that's the question. It is an Afrikaans translation of "Last Rounds", originally created with Rebecca Makin-Taylor.

Dis 2 uur. Die kroegman het laaste rondtes geroep. Die Romantikus sit in 'n donker hoek, roer haar whiskey met 'n strooitjie, hou die deur fyn dop. Sy's maar net 'n meisie wat in 'n kroeg sit en wag... Wag vir iets wat, besef sy, dalk nie gaan kom nie... Terwyl sy wag, herroep sy die aand, die aand wat haar tot op hierdie punt gelei het: die verskriklike bachelorette, die ander vrou, en die die besef dat die man van haar drome dalk nie alles is wat hy sê hy is nie. Half Leeg gooi 'n blik op liefde, whiskey en goeie musiek; dis 'n skerp en snydende kyk na mans, vroue en eensaamheid.

"Half Leeg" is an an Afrikaans translation of "Last Rounds", originally created with Rebecca Makin-Taylor. "Last Rounds played to critical acclaim in 2014 at Alexander Bar, and in 2017 was commissioned by Aardklop National Arts Festival for Cintaine Schutte.

"Half Leeg" has been presented at Aardklop National Arts Festival, US Woordfees, ABSA KKNK, Vrystaat Arts Festival, and is finally coming to Cape Town.
Cintaine Schutte has most recently been seen in kykNET's series "Fynskrif", as well as Christiaan's Olwagen's film "Die Seemeeu". On stage, she has spent much of 2018 travelling with "Half Leeg" and recently starred in and produced "Huishou", which premiered at Aardklop in October. She most recently won the award for Best Supporting Actress at the 2018 Silwerskermfees for her role in "Die Seemeeu".
At the age of 31, Tara is one of the most prolific directors of her generation, with 50 directing credits under her belt in just 10 years of working in theatre. She is a celebrated independent director and producer, as well as Artistic Director of The Pink Couch, with a repertoire of award-winning and internationally travelling work under her belt. She has won the Fleur du Cap Theatre Award Rosalie van der Gucht Prize for New Directors (2010), and the Baxter Theatre/GIPCA/ Theatre Arts Admin Collective Emerging Theatre Director's Bursary (2010).
Her most lauded work includes "…miskien", "Mafeking Road", "Undermined", "The Three Little Pigs", and "Three Blind Mice". Her most recent project was an all-female production of "The Taming of the Shrew", presented at Maynardville Open-Air Theatre in February 2018.
"Half Leeg" will be at Alexander Bar, Café and Theatre from 5 - 7 November, and 12 - 17 November at 7pm nightly. Tickets are R120 at the door, and R100 if you book online, and bookings can be made through Alexander Bar, or at https://alexanderbar.co.za/show/halfleeg/
For interviews and media, please contact Tara Notcutt at taranotcutt@gmail.com.
Audience Responses
Fantastic! Cintaine's acting was spot on and so authentic. Captured the audience throughout the entire show. Really enjoyed it!
We enjoyed it very much. Excellent.
Brilliant!
Awesome
I was kind-off disappointed that it was all in Afrikaans (which I hadnt expected) and sometimes Cintaine spoke too quickly sometimes and I couldn't follow which was a pity. The acting, sound and lighting was amazing however. Perhaps there could be a little less smoking - I know it's stage cigarettes but its difficult to breathe anyway in there as the air con is not working effectively for a hot evening. There is a warning on the website which I hadn't noticed earlier. I would be interested in seeing Half Leeg staged in English as well!
Both the acting and writing were phenomenal. I'll definitely be on the lookout for Cintaine's next performance!
High energy. Very funny. Super relatable.
KNOCKOUT! I feel this play has been written for me, about me... I am Vicky! Wow. Cintaine is supurb! Hugh star for Tara aswell! Joy mixed with tears all brewed into the best wiskey! Loved
Cintaine Schutte is stunningly good. Tara Notcutt's direction is razor sharp and brilliantly paced. This piece had me in tears - of laughter and despair.
Half Leeg is hilariously gripping. You're taken on a journey exploring so many different characters in such a honest way. I would definitely recommend Half Leeg!
Loved it. Cintaine is a fantastic actor!
fantastic
A fun show to watch and perfect for a night out
The show was excellent - thank you
Uitstekend. Baie geniet.