Gruesome Playground Injuries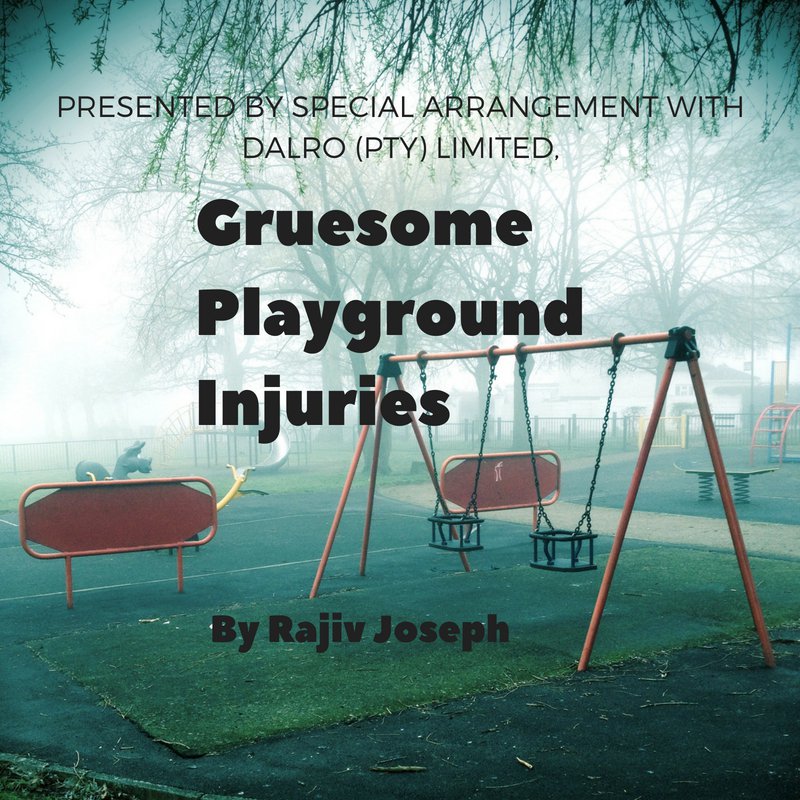 Presented by arrangement with DALRO (Pty) Limited,
Rajiv Joseph's Gruesome Playground Injuries makes it's South African debut! Directed by Tara Notcutt, Gruesome Playground Injuries will run at The Alexander Bar for a limited run of 9 performances. Over the course of 30 years, the lives of Kayleen (Candice Bernstein) and Doug (Matt Newman) intersect at the most bizarre intervals, leading the two childhood friends to compare scars and the physical calamities that keep drawing them together.
Gruesome Playground Injuries is presented by arrangement with DALRO (Pty) Limited, www.dalro.co.za
"Rajiv Joseph is an artist of original talent."
—NY Times.
"Irresistibly odd and exciting…This darkly humorous drama is Rajiv Joseph's most satisfying work."
—NY Daily News.
"This wondrous strange two-hander finds as much humour as horror in the play's bizarre events."
—Variety.
"Mystical, arresting, and quirkily amusing."
—Washington Post.


Tara Notcutt - Director

Tara is one of the most prolific directors of her generation. She is a celebrated independent director and producer, as well as Artistic Director of The Pink Couch, with a repertoire of award-winning and internationally travelling work under her belt. She has a BA in Theatre and Performance, majoring in Theatre Making, from the University of Cape Town. She has won the Fleur du Cap Theatre Award Rosalie van der Gucht Prize for New Directors (2010), and the Baxter Theatre/GIPCA/ Theatre Arts Admin Collective Emerging Theatre Director's Bursary (2010). She was a member of the prestigious Lincoln Center Theater Directors Lab in New York City (2011), and is one of the Mail and Guardian's Top 200 Young South Africans (2012). Since 2009, Tara has presented works at 45 festivals in 15 cities in 4 countries on 3 continents, but South Africa is her favourite. Her most lauded work includes …miskien, Mafeking Road, Undermined, The Three Little Pigs, and Three Blind Mice. She is also the South African Associate Director for the UK production of The Gruffalo, created by Tall Stories, and produced by National Arts Festival Grahamstown. Her most recent project was her 50th show that she directed, an all-female production of The Taming of the Shrew, presented at Maynardville Open-Air Theatre in February 2018.
Matt Newman - Doug
Theatre roles include Frazer in Sweet Phoebe and M in COCK (Alexander Bar Upstairs), Andrew in The Treatment (Theatre Arts Admin Collective), Gremio in The Taming of the Shrew (Southwark Playhouse, London), Tom Snout in A Midsummer Night's Dream (Guildford Shakespeare Company) Robin in Robin Hood (Theatre Royal, Bury St Edmunds) Brad in The Rocky Horror Show (Civic Theatre, Chelmsford) and They're Playing Our Song (English Theatre, Frankfurt).
Recent television: Outlander (Starz) The Crown (Netflix) and Our Girl (BBC Television).
Candice Bernstein - Kayleen
A graduate of William H. Macy and David Mamet's Atlantic Acting School in New York. New York credits include Rhinoceros (Atlantic),Throwing Your Voice (Atlantic), Never Sleep Alone (Joe's Pub). TVCs include: Deichmann (Poland), Lays (WW), Tic Tac (UK), AAMI Insurance (Australia) & Fruit Water (Israel). She is elated to make her South African stage debut in Gruesome Playground Injuries.

Media & Reviews
Audience Responses
Riveting and horrible at once. Review to follow soon in Weekend Special.
Much enjoyed! Really intriguing play, as it progresses. Enjoyed the structure. Beautiful, truthful performances from both actors. Moving, funny. Occ Matt Newman a touch strident; and Candice Bernstein sometimes seemed to be acting for camera (minor niggle). I did feel the costume changes took too long. Simplify?
good
Lovely show, great acting, one scene too many though imo
Loved it!
Tara Notcutt is a wonderful director. The play is engaging, funny and ultimately heart-wrenching. Thank you.
Really liked both script and acting
Outstanding acting by both performances
Matt pulled off the 8-year old a little _too_ well... :D
Riveting and horrible at once. Review to follow soon in Weekend Special.
Tara Notcutt is a wonderful director. The play is engaging, funny and ultimately heart-wrenching. Thank you.
I absolutely loved it! Everyone in the audience loved it. Can't believe it was on for such a short period of time. Please bring it back!
Brilliant acting, stage presence and professionalism. Well done to the team!!!
Great play. With good acters!