Dangled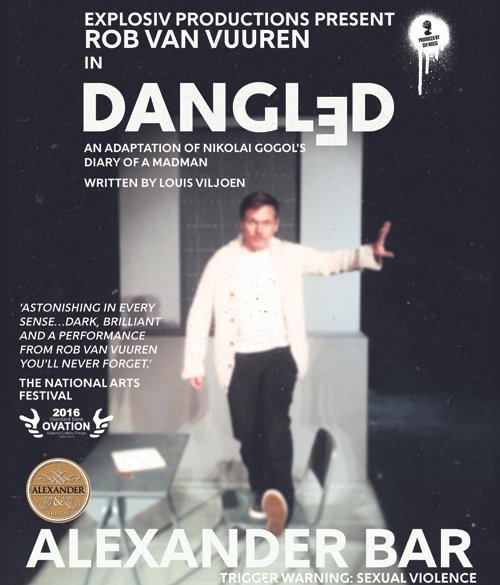 Dangled is an adaptation of Nikolai Gogol's short story Diary of a Madman by mutli-award winning writer Louis Viljoen and performed by multi-award winning actor Rob van Vuuren. A dark psychosexual horror comedy exploring themes of sexual violence, verisimilitude and the creative process, Dangled is the first collaboration between Van Vuuren (The Three Little Pigs, A Dolls House) and Viljoen (The Pervert Laura and The Kingmakers) and promises to disturb, entertain and terrify in equal measure. Dangled is designed by Rocco Poole.
Viljoen describes Dangled as 'a story about a madman written for one of the maddest men I know.' Van Vuuren describes Dangled as 'Shirley Valentine meets Steven Berkoff on tik.'
Media & Reviews
Review of Dangled by Kei-Ella Loewe
Audience Responses
a disturbingly funny piece. Amazing energy from the actor, really appreciated his naive(?) way of looking at a Love-object.
Rob van Vuuren at his very best. Pure magical theatre that everyone should see
a captivating performance.
Wonderfully intense and an incredible performance from Rob.
brilliant
More of an "experience" than a show. Very engaging and raw. Disturbing and intense.
5. Superb!!!
5. Superb!!!
Excellent - gave us food for thought....
5 out of 5. Rob is a consumate performer & entertainer. The two are not always mutually exclusive. 5 pieces of set/props, excellent script & plot, and intuitive direction and execution. A privilege to watch. We loved the bar & cafe and front if house lady a classy, old school touch
Excellent - gave us food for thought....
Incredible performance by Rob
The fact that we caught Rob in his underpants after the performance ( hoping to wish his for a sterling performance in Dangled last night) did not appear to fase him in the slightest, unsurprisingly, given the hectic 45 mins we had just spent watching his performance with table, chair, and window... Rob in Dangled last night: what an incredible performance: intense, funny, disturbing, scary and downright frightening: he had us on the edge of our chairs...phenomenal. He took us on an emotional ride that was both uncomfortable and revealing: we wanted to like this quirky, mad, sad and strangely entertaining character... and then... and then, and then...shew, as the Saffers say...toe-curling, literally. Genius. We couldn't turn our eyes away...initially, weirdly rooting for him, hoping he finds happiness with the lovely Sophie, urging him to see her again, until we realise, with horror, her fate was probably sealed in her father's office. What follows next is shocking, mortifying and deeply disturbing: one of the finest, gripping and seemingly effortless performances I have seen in South Africa. Rob belongs on the largest of world stages.
5. Superb!!!
It was a seriously disturbing experience. Too much after a day at work. ????
Incredible performance by Rob
5. Superb!!!
The show was performed incredibly well.
The show Dangled was incredible. Thought provoking, uncomfortable, awkward, shocking and with a script that is as clever as it is amusing and impressive. Rob van Vuuren was brilliant. We had never seen him perform before, but as my theatre companion said : he should be in Hollywood (or if that's an insult, Broadway, or any place that is home to the most talented actors /performers /etc). I
Excellent - gave us food for thought....
Absolutely incredible performance!
Great show, great story, great acting!!
a captivating performance.
Rob van Vuuren is a whirlwind of talent,energy and hard work. Dangled is at once funny and disturbing, and I urge anyone interested in great theatre to watch it.
A master class in acting. Brilliant!!
I realise that there was a warning attached to Dangled. (And I am a Louis Viljoen fan.) I do feel though that the warning was not explicit enough and should have clearly articulated subject matter: Violence Against Women!
Rob Van Vuuren is an incredible actor. The show content was pretty shocking, but his range of emotion and incredible.
a captivating performance.
Viljoen meets Van Vuuren is Vantastic theatre, Very loosely based on Gogol. Table, Chair and Window great supporting cast. But who is the director? BTW tried to respond re bash but something odd happened with site. Truly dark; Greek austerity indeed! Alicia McCormick outstanding; Jacques Theron powerful in 2nd play.
Disturbing subject but well written and executed.
Everything about this play was superb. I would watch it again in a hot second.
Amazing
a captivating performance.
Brilliant performance. Riveting dark script, beautifully executed.
Brilliant script, bravura performance. A fascinating hour of theatre.
Let's all fee awkward together. The spirit of teh evening. Rob Van Vuuren was a great choice to play this disturbing man we watched for an hour. Keen to check out more of Louis and Rob's collaborations
Incredible performance by Rob
I loved the show. I expected frenetic acting, which is what was delivered. It was just long enough not to become too much.
excellent theatre. thank you
oustanding acting!
It was a very lively performance . Typical Viljoen langue and all
Brilliant, funny and disturbing. World-class theatre.
Woah. What a performance.