between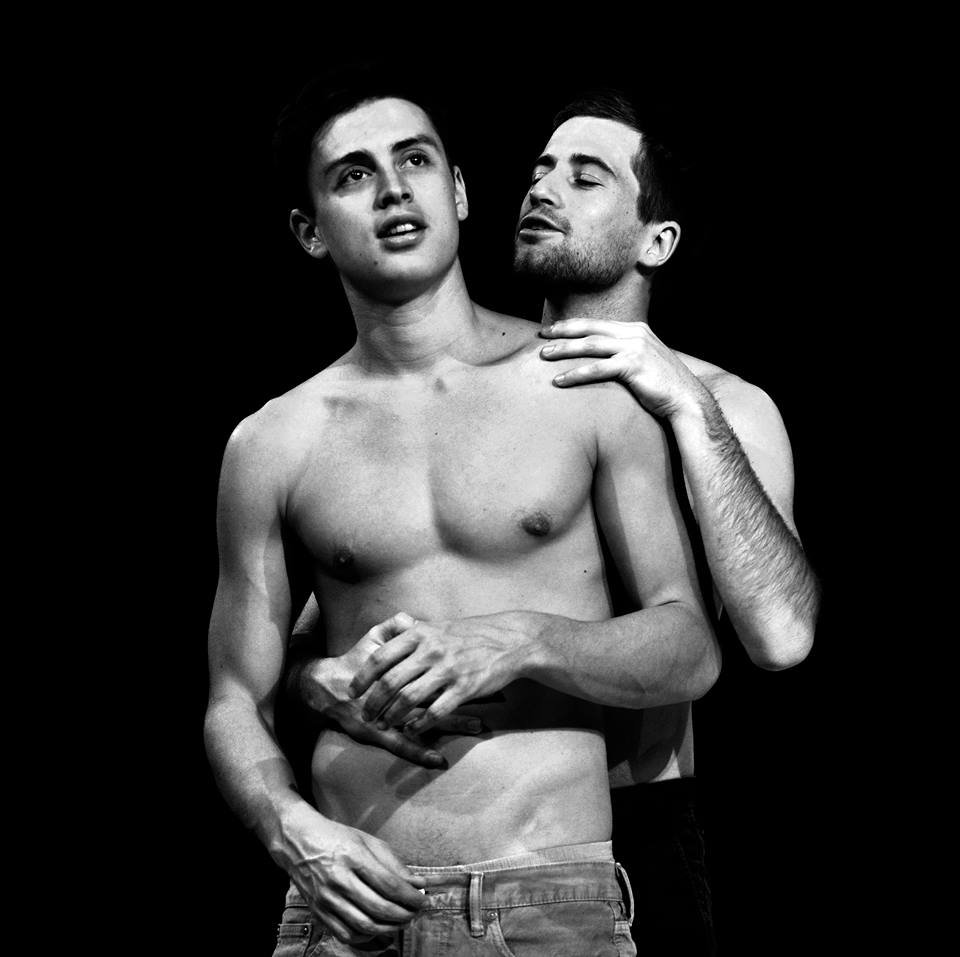 "Between" returns to Alexander Upstairs having toured extensively over the last year, playing to sold-out houses and standing ovations.
"Between is very engaging, fast paced and SEXY... theatre that explores aspects of male sexuality rarely seen so honestly."
This intimate story of a man's life, loves and losses was nominated for BEST WRITING and BEST ACTOR at the Dublin Gay Theatre Festival 2012
If you're GAY then you MUST see this show!
If you're STRAIGHT then you MUST see this show!
If you have ever been IN LOVE then you MUST see this show!
If you have ever had your HEART BROKEN then you MUST see this show!
IF YOU HAVE:
had SEX, NEVER had sex, KISSED a girl, kissed a boy, read a SONNET, never read a sonnet, written a LOVE LETTER, had a CRUSH on a TEACHER, pretended to be BATMAN or ROBIN, found a DIRTY MAGAZINE, watched PORN, fought with a lover, consoled a lover...
Media & Reviews
Review of Between by Peter Tromp
Review of Between by David Fick
Audience Responses
Fantastic theatre !
The acting was superb and the content was brutal, intense and so so apt! Totally loved the performance and the venue definitely enhanced the experience.
I felt gifted, being able to have an insight in three different love stories of this intensity. Right after the show, I almost felt like being a part of this love, such an intimate atmosphere was created in the small venue. Thanks a lot Oskar, Nick and Jon :)
Loved it
This was a beautiful show. Accurate and poignant and touching. As simple as it was it reached so many different levels of the issues surrounding coming out, being in love, and being comfortable in your own body and in your own life. Excellent acting and superb writing.
Amazing performance. Perfect theatre for such an intimate play. Really enjoyed it and have referred multiple people.
Had a wonderful evening. I love the intimate venue. The guys put on a great plat - well done to them! Will definitely be back for more.. Toni
Good show but chronology was a bit confusing. And the theatre is FREEZING with the temperature set so low!
Love the intimacy of the theater
A really brave show exploring relationships that every gay man can relate to. Oskar and Nicholas were fantastic. Was sorry I couldn't stay for the drinks and snacks afterwards.
Touching
Great performance. Talented. Would like to see more from these two actors in future.
Great . Very touching . bought back a lot of memories from growing up . Keep up the great work.
loved the show - such a professional performance...well done!
Great venue, Great performance. Will be back!
Fantastic performance Great cast.
Fantastic prrformance. Great cast.
Thorougly enjoyable. Character development was very well executed. The shift in time frames between joungsters and adults again well handled and pulling the emotions through from one to the other resulted in various layers that I could identify with in my own life. I did feel that the fleeting romantic moment was forced and could have been more intimate.
Beautifully written and given a very sensitive staging and performance.
THE SHOW WAS AMAZING! I ABSOLUTELY LOVED IT! MEANT A LOT TO ME PERSONALLY BECAUSE I COULD RELATE TO THE CHARACTERS ON SO MANY LEVELS! THANK YOU! - JEANDRE
Was completely moved by Between! The performances were outstanding and the script was beautifully crafted. Well done to all.
Great show. Thought provoking and excellent acting.
I ABSOLUTELY absolutely enjoyed every minute of the production. So in your face and real! It was a treat to take a couple of my hetrosexual friends to watch such raw emotion and great acting. They loved it to and have all booked again to watch your burlesque express production. Anyone could adapt their life to what was happening on that stage. Entertainment for ALL !!!! Thank you and see you again soon. Brad :)
I preferred the younger guy He was more living the part.....
What a beautiful show! Both actors are amazing at their craft. It was such a joy to see it, and the Alexander Bar was the perfect venue - the intimacy of it all added to the profound experience. Also, both men were gorgeous! ;)
Enjoyed our experience prior to, during, and after the show. Wonderfully done!
Nicholas, I've now received requests for reviews for four shows, dating back some time. I cannot even remember this one - such are the vagaries of old age. I assume your automated system has now forgiven me for any dumb reviews I have given in the past. I'm also sure you'll forgive me, too, if I decline to reply to the four requests I have now received. Hoping to be able to see another show soon. Regards, Malcolm
Really enjoyed the show
Brilliant chemistry between the actors. Being two hot guys doesn't hurt either! The contents and the play was masterfully written providing insight into life and love without excessive vulgarity.
FANTASTIC SHOW ! I sent the mail below to the guys after the sow last night - Oskar, your script is brilliant - most entertaining ! Nick, you were superb ! The Alexander theatre is the perfect setting for such an intimate play. THe facial expressions, the body language, the chemistry and intimacy were brilliant. I would highly recommend this to all my friends, and I would gladly come experience this piece of theatre again. The sonnets were great, and this was just something special. It is hard to believe that this was 2 straight guys acting, as it was very intimate, and passionate. Very believable - so well done to you both. It was great to see the intimacy between you both, and you can tell how good your relationship really is - I suppose it woud be after all your touring and spending time together.
really enjoyed it.
I saw it even twice and it was BRILLIANT!!!!!!!
Superb show, well worth the price of admission!
Beautiful performance. Very intense
Fantastic show! And a really great, intimate space. Thank you! ",
well acted -- very convincing
It was my second time seeing the show, and I must admit, I would come a 3rd, 4th and 5th time even, just because it is that good. The script, the actors, the directing, soundtrack, and general aesthetic of the piece is amazing. I would love to see other elements of props/furniture utilised in different ways though, and possibly different lighting for the monologues for each gentleman. Overall, I really connected with both Nick and Oskar with each of the 3 characters they each portrayed. Job well done, looking forward to future collaborative work by the 2, possibly even the piece done by two different actors, to see how that dynamic would work, as it can really be a conversation starter piece.
Adorable play! Bring more similar plays to the theatre. Thanks so much.
it was gay. it was gay in a double sense. bright, happy and showy. and obviously it was about the love between two men. i would lie if i said it was only happiness, because they had to struggle and keep their little romance a secret. however. i liked it a lot. even though i was a bit drunk during the show. im probably drunk now.
A perfect show for a venue like yours: Intimate, honest, and - in terms of performances - powerful, poignant, and definitely edgy. I think we need more risk-taking theatre like this. Bravo.
Hi there I commented on facebook about the play - loved being 'introduced' to a new venue (had never been to Alexander before) and we enjoyed Between. Was great being in a more 'intimate' environment for a 2 man play... reminded me so much of when I worked at CAPAB as a Wardrobe Assistant on the drama side. Great acting by the two guys! We will definitely be back for other shows now that I know where you are.. I was actually looking forward to tonight's muso but unfortunately my finances are a little stretched this month. Have a great day and a brilliant show tonight Toni
Nicholas, I've now received requests for reviews for four shows, dating back some time. I cannot even remember this one - such are the vagaries of old age. I assume your automated system has now forgiven me for any dumb reviews I have given in the past. I'm also sure you'll forgive me, too, if I decline to reply to the four requests I have now received. Hoping to be able to see another show soon. Regards, Malcolm
Thouroughly enjoyed it
Brilliant. One of the best things I have seen on stage recently. Loved loved loved.
Fantastic production - great venue.
loved the show - such a professional performance...well done!
fantastic! loved it
The show was awesome. Loved it.
Enjoyed it and will def come and watch more plays
Brilliant!
Great show, absolutely loved it and awesome venue! Will be back!
Excellent! - It should return and be seen by many more people!! Thank you! Warm regards, Brian
Really clever script! Great acting...cute guy! He he. Only criticism, pauses were maybe a bit long?
I unfortunately missed it - gave my ticket to a friend and they didn't use it. A real pity. Hope to see something soon @ your theatre. Reto.
4 Superb acting from both actors, exposing the vulnerability of the male. Great writing using Shakespearian sonnets Quirky set design
The acting was brilliant enough that the show could have been longer than 60 minutes. I was impressed by the rage that was portraid in the scene where the high school boy attacked the other boy for wanting to tell the school what they did, then went immediately into another character not being angry at all. To change over so quickly almost made the acting surreal, but it was performed brilliantly. Reciting Shakespeare at the end without reading it was also impressive. The shirt changing didn't confuse the audience and one almost looked forward to certain shirts... The only thing that was on everyone's mind after the show, was "what does the other guy's willy look like...?"
An intelligent and thought-provoking production with some really outstanding acting. Thank you. Big congtrtulations to all concerned.
Brilliant production, outstanding actors.
Great venue, Great performance. Will be back!
I think Between was a great production with the actors really bringing the story to life.
5/5 The show was awesome and I have recommended it to everyone I have seen since.
This was my first time to Alexander Bar and what a welcome surprise. Awesome decor and atmosphere to set the warm tone before going upstairs where the small venue lent itself to a more intimate theater experience. The show itself shocked me but turned my initial perception into empathy for the characters as the story told moved along. Overall a great night out and worth a mention. Brian.
It was beautiful!
Excellent performance. Heart felt and intense expression. Very powerful. Well written and well acted.
Brilliant - superb evening.
We thought the play was brilliant. You have a very interesting thing going at Alexanders, but you need to focus on keeping the venue clean and taking the food issue seriously. Thank you for a wonderful evening. I only hope Justin B did not miss all our company too terribly. hb
Loved the show! Left wanting more....
Hi, my group of friend an i had a great night out. Thank you. One or two small pointers. It got very warm in the theater. Maybe a fan that could move air around. I tried to read up about the show and the actors before hand, but could not really get a sense of the show from your site. Unless i missed it? The Show's leaflet and actors background would of been useful info on the site. Lastly the show was quite explicit with no warning of it's extent beforehand. You did how ever say that no-under 18 because of liqueur laws. totally understandable. But for the most part we had a great time. Rewald
Highly recommended. Excellent cast and raw emotion.
brilliant ! i think "Between" was absolutely brilliant. Its current and the two actors were flawless. to my regret I saw the show towards the end of its run and had I seen it earlier I would have gone a 2nd time.