Bench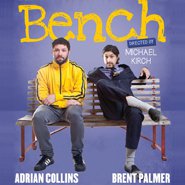 2 Fleur du Cap nominations - Best SA script and Best Director!
Brent Palmer's hilarious comedy-drama "Bench" premièred at the Kalk Bay Theatre where it received consistently glowing reviews.
"Bench" is directed by Michael Kirch; starring Adrian Collins and Brent Palmer as Hendry and Denver, two local petty thieves. Seated on a park bench, they are on the brink of their most daring job to date –a job which they believe could make them wealthy beyond their wildest dreams. When one of them gets a crisis of conscience and begins to question the job, the planning takes an unexpected turn. It is a gritty yet whimsical comedy; examining a day in the life of two hustlers with surprising revelations.
Audience Responses
Terrific little play. Great writing, beautiful character work. The two actors were astounding. Good fucking job to all involved.
Very good acting with the 2 actors keeping in character and their accents superbly.
It's a good concept and a fairly decent script. There is no doubt about the acting talent - these two are good!! What irritates me about live theatre is the audience! The young lady sitting next to me (in the front row) was tweeting and texting throughout the show What can be done about plebs like this?
A superb script and excellent performance by both actors. Laugh-out-loud funny.
I really enjoyed the intimate theatre vibe - it was great to get so close to the action and see great performances at work. I thought both Brent and Adrian were incredibly nuanced in their performances and I can't wait for their next collaboration. Lovely space, wonderful bar and a superb performance. Any chance of adding more traditional cocktails to the menu? I thought a Long Island Iced Tea may be a nice addition.
Well done on this unique venture
I liked it! Fantastic acting. The venue is very nice so I like the idea of going for a drink with friends, maybe a meal and some good entertainment.
5
great show, great humour - always good to visit AlexBar - pse keep reminding me of new things happening - much appreciated, Ursula
Brilliant
A fantastic double-act!
Great play with some brilliant acting and script writing. Great vibe all round. Except the food was disappointing (you can't allow the kitchen to send out rock hard stale toast). That compounded with a mess up with another persons food order on the table does not bode well for coming back to eat...BUT definitely back to the theatre.
Amazing show! Brent, Adrian and Michael should be proud of their offering to South African theatre.
Really enjoyed the show. I would definitely recommend it.
I loved it and the think your venue is great. Brilliant acting. A fun night out!
Excellent ."...a little overacted and 10 mins too long
Fantastic show! I was laughing so much I didn't notice the uncomfortable seats!
Fantastic!!
5 out of 5. Excellent! Brent Palmer was fantastic and 'Dwayne' was wonderful with the typical Cape Flats lingo, a great treat! Please let me know about future shows. Rose
Didn't compare to episcene butcher - it didn't really develop much - could have been a 20 minute skit with the same effect. Nice characters, but a bit too static for me and nothing changed until the end... It was sweet, but I could have missed it.
it was more drama and much less comedy (but maybe that was just me). actors did a great job. always love the intimate venue.
Some fine acting but I felt that the script/plot was too thin for 60 minutes and thus had to "turn back on itself" after about 50 and thus reduce the over-all effect/strength of the play. That said, I'll probably give it another whirl in Grahamstown if I can fit it in. Mark.
Well lets start with concept and venue- brilliant - our new favourite spot. reminds me of The Black Sun -JHB where I acted about 25 yrs ago!! really inspiring I may just find I take my pen out again! BENCH was fantastic - a duologue of note. Their over characterisation really worked and the whole performance was totally engaging. we cannot wait to return on Thursday for Dogs Bollacks! Please add us to your mailing list. xxx