Anthology: A Change in the Weather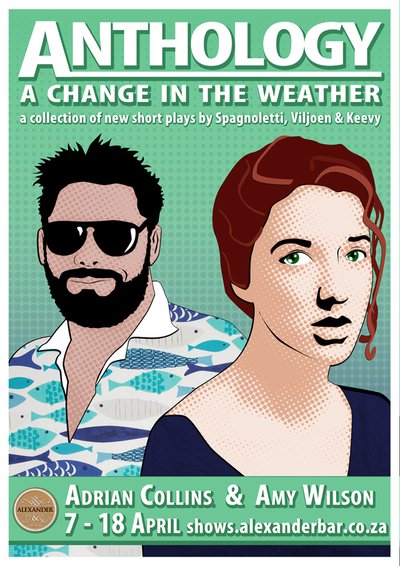 Three writers, two actors, make an anthology of short plays on the theme 'A Change in the Weather'.
Jon Keevy's Bullet Point an enigmatic package throws two con artists into a tight spot.
In Nicholas Spagnoletti's Drowned Bride, a best man and a bride find themselves at the bottom of the Atlantic, dead, after the wedding went horribly wrong.
And there's Louis Viljoen's Tropicalypse: Some hangovers feel like the end of the world; some hangovers are the end of the world.
The writers were given the theme, and aside from constraints on cast-size and set, total freedom. Brilliant acting talents Adrian Collins and Amy Wilson are up for the challenge that Anthology presents.
Anthology: A Change in the Weather was first presented in a limited run in December 2014. Anthology is the brainchild of Nicholas Spagnoletti and Louis Viljoen, hatched as a platform for local writers to experiment with short format plays, network, and have fun. The first short run was over too soon, so before moving on to the next edition we decided to reprise this. However Candice D'Arcy, one of the writer-directors, has moved on to Australia so Jon Keevy has filled in with a contribution. Brendon Daniels, who was in D'Arcy's piece, will return in Anthology Two scheduled for August.
Media & Reviews
Profile: Amy Louise Wilson for Anthology: A Change in the Weather
Review
Audience Responses
Loved all three!
A great show. 3 hilarious short plays, brilliantly directed and performed. Highly recommended.
Really enjoyed it. Acting was outstanding and loved the 3 different playwrights, all such different styles and all enjoyable and humourous in their own way. Just what I felt like after a long week something light and funny but not trite. Thank you!
Good acting Unusual script.
Good acting Unusual script.
Wonderful acting, well written , witty. Thoroughly enjoyable.
Good acting Unusual script.
last play was dreadful ; the middle one witty ; the first baffling.
A great evening's theatre. superb acting, brilliant writing. the only disappointment was the unresponsive audience whose luke warm response would have daunted less inspirational actors. BRAVO, keep up the great work.
A really well put together show - I was really impressed, left us with tons to talk and laugh about afterwards!! Gogogo!!
I love the Alexander Bar and most the shows are great, but this was awful, sorry...mediocre acting and a really bad script...would've walked out if there weren't so few people there. I felt like we were watching a school play - the few people that were there mostly seemed to be buddies.
Brilliant acting ... Amy has range and depth. Brilliant and funny!
It was good to have read the recent news paper write-ups before the show otherwise think I may have been a little lost in terms of the plots. So some background was in my opinion essential. Maybe a little program would help other audiences.
I thought all actors were great..and the direction good. It .would liked to have seen more of Brendon. The plays were uneven. Nicholas'a play stood out, head and shoulders(albeit underwater) He is a wonderfully playful playwright..Both the characters beautifully observed.. Candice's play was an interesting idea but I felt it was not fully realised..not sure if that was in the writing or directing. I feel probably the writing. it felt gauche and slight.. The last play irritated me...It clearly appeals to a rugger bugger mentality+ will have popular support but I found it immature+trying too hard to be sexually provocative. Undergraduate young men will delight in this piece. I loved the concept of the playlets linked by a theme. Do some more. A good evening. Well done to all involved.
Fab fab fab, awesome idea awesome evening, thanks!
Would love to comment- thanks for asking!!! I Loved it!! I'm so so so so inspired by the whole concept of showcasing several short plays with the same cast!! Genius!!!!!!!!! All 3 pieces were distinct and the individual writer/voices apparent. Cast performance - outstanding!!!! ...Loved the death row concept- got me thinking- excellent ending!! Nautical bride and best man - fab characters- genius story- hilarious!! Beautiful, well constructed, polished piece there!!! Louise's gorgeous gritty couple- also, so excellent!! Always wonder what to expect next from the delicious Mr Viljoen!! The line 'I'm going to mount a hose....etc ....' Just Killed me!!! Lol!! .... And that's my two cents !! .. Oh, run should be longer!!!!
That was amazing! Still laughing.
Loved all three!
While I do not share all of Steyn du Toit's enthusaism (CapeTimes Review), I do salute the enterprise involved in this presentation,and I admire the actors' enegyand ability. Some of the plays resembled work in progress, rather than finished products. Also, I disliked the over frequent (especailly in the last play) of "fuck" and"Christ" . I am not objecting on grounds of profanity , nor of blasphemy, but such over-frequw\\ency becomes boring, and is not effective.
Loved the evening ... acting excellent .... the script was brilliant!!!!! Thank you for bringing informal theatre to Cape Town
Good acting Unusual script.
See review on Tuesday April 14! (Argus) Brilliant show
Interesting to see 2/3rds of this production again. TROPICALYPSE seemed a touch too long this time round but still funny, and well constructed, as is DROWNED BRIDE. Jon Keevy's new 1/3rd is short, sharp and amusing - an ideal opener: the con artists conning each other in classic SPY vs SPY mode, DIRTY ROTTEN SCOUNDRELS, etc. Actors and directors do fine work. Look forward to ANTHOLOGY 2. Thanks for a great double bill with Graham Weir's show.
See review on Tuesday April 14! (Argus) Brilliant show
I loved them. Hilarious, dark, disturbing, sexy and quirky - hugely entertaining. I would love to know who wrote and who directed the individual pieces...
I enjoyed the shows as a whole. I quite like the idea of 3 short shows. Even if one isn't your cup of tea, another one will be. I also think it gives new directors and writers an opportunity amongst some other more established ones. So I like the idea a lot.
fun and silliness supreme .... great concept having 3 plays by 3 people ... would love to see more ... hope this concept could be nurtured and grown and happen on a regular basis ??? thanks and congrats to all concerned
Three wonderfully different but punchy contemplations on the theme. From the cheeky, wry humour of Nicholas Spagnoletti's offering to the wonderfully slick delivery that Amy Wilson brought to... - Nicholas is this what you want me to say? Call me if you need more skat, robert x x x
What a treat! Spectacular writing and performances, and a really enjoyable format. I look forward to many more. Was this the first Anthology? If there are more, I will come every time! thank you
The show waa not the best that I've seen at Alexander Bar (the bar is set very high - pun intended!) but it was still thoroughly enjoyable and I liked that the scenarios were unusual.
1. Jon Keevy: Imaginative, fast-paced, enough left to the imagination 2. Nic Spagnoletti: Imaginative, gentle, wry, humorous with charm - The audience rightly found the plot amusing 3. Louis Viljoen: Spewed hate and venom, murderous planning, from beginning to end, with a huge amount of unfunny, gratuitous profanity - which, true to type, the audience seemed to find amusing. As totally negative as current from start to finish as current news broadcasts! Add something positive, a little liking, loving or generosity of spirit and Louis would fly again. He has great talent but wasted this time around. The week's violence and hatred in SA and Africa reached its zenith in this piece. Don't get infected by it, Louis!
Last skit seemed to lower the tone somewhat of a great production......
I thought the evening was brilliant and the pieces excellent. Would be great if the transitions became part of the show, find a way to make them part of the thing...I did love Johns head nodding!
Loved it! Bring it back! And congrats to Jon Keevy for keeping it flowing. Maybe it would be fun to choreograph the scene changes?
Entertaining and good performances
I had a marvellous evening. Really different, concise and very clever scripts, and wonderful performances by two of my favourite actors. Three cheers (one for each play) to you all!
Fantastic!! Very funny. The actress was incredibly versatile.