Let's Get Quizzical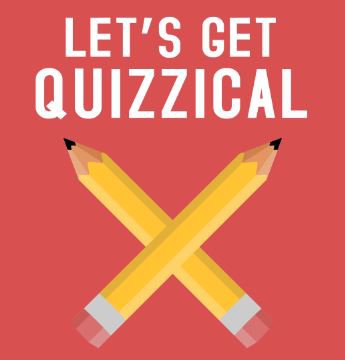 Who? What? When? How? Why are you shouting answers at me? Oh, it's because I'm the quiz master and have all kinds of drinkable prizes for the rightest of the righteous. Am I using those words right? Actually, don't answer that question. There will be others soon. And they will be a lot harder. So strap your smarty-pants on over your party-pants because 'Let's Get Quizzical' isn't your ordinary pub quiz. Stock up on strange facts! Prepare for Quiz masters with sexy voices! Thirst for spot prizes that almost 100% will be liquid! And of course there'll be quirky formats and categories like 'Um, Actually' and 'Famous Cats'!
Watch out for our Specialist Nights when we focus on categories like Film & TV or Music.
Ready? Then Let's Get Quizzical!
Kindly note: Quiz tickets are per person (not per team)

Rules:
Each team must have at least 2 people but no more than 6.
Pineapples disguised as people will be counted as people.
Silly team names are compulsory.
The Quiz Master is always right. Even if google says no.
Brains only! No phones, laptops, or encyclopedias!


Audience Responses
Great quiz!
Really had an awesome time! Super tough questions, but had a good laugh through the bonus round :)
Very entertaining and interesting quiz. Thanks for the fun evening.
Questions were incredibly difficult, it was not easy to engage with them. They were much too technical. Categories should be broader.
Great experience, we all had loads of fun - thank you for a great night!
Really had an awesome time! Super tough questions, but had a good laugh through the bonus round :)
Totally jazzed by this amazing quiz experience
the quizzical was good - just far too noisy! not the right venue for a quiznight....or perhaps they should not have the show and the quiznight at the same time.
Jon is super. More Jon. I think the quiz could use a physical dexterity round for those very attractive but dumb as a box of rocks team additions.
Brilliant from quiz-master Keevy!
A lot of fun... it was sometimes hard to make out some if what the host was saying, perhaps because we New Yorkers are not as familiar with the accent and also because we were sitting behind his podium.
The host was shouting the whole time, on a level that it was actually very unsettling. The music was also loud and we could barely hear each other talk while discussing answers, the host had to talk over the music while presenting and it affected the clarity. He has a microphone there is no reason to shout. The host also gave away 5 points on two occasions in bonus rounds where only two teams had the chance to play for it. The 2nd bonus round gave 5 points to the team who was 2nd at that stage, that isn't acceptable. All teams should have an equal chance at all points in the game, bonus rounds are fine but they must be prizes not game points. I have been to an Alexander bar quiz in the past and it was very relaxing and enjoyable and always recommend it to friends, my experience last night was very disappointing.
Better quiz than in the past when using OMG recycled quiz questions or whatever they were called... Couldn't see first picture round... 2nd Bonus round was a bit lame.
It was awesome! Great questions pitched at right level and went at a good pace. Really enjoyed it and will be back!
First time there - really tightly run, African questions appreciated, the bonus round with the dinger was a really smart way of involving teams and giving everyone a win. Will be back :)
Overall was good. Quiz master pronounced every thing well, was entertaining and could hear him clearly throughout. Nature round was strange and felt over specialized. Could probably have done more with the round than only play animal sounds.