Laced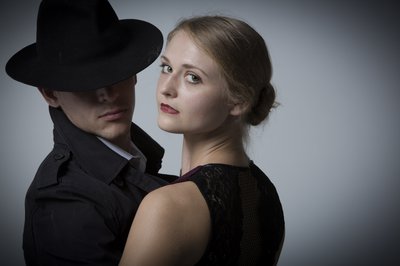 A case too intriguing to pass up. He desperately tries to keep himself detached from her... "Don't believe. Don't trust. Always maintain a high index of suspicion". But soon he's unable to discern truth from manipulation, foresight from delusion and gift from illness. Fact, laced with fiction…?
Jared Musiker and Lee van der Merwe dance the line of real and imagined in this original work by Lee van der Merwe.
"She called me in a state, saying she had found a body in her living room. Poisoned. But when I arrived at the apartment, she was gone. So I came to the club to try and find out where she was; who had seen her last; if she was alright; but there she was, on stage. I suppose singing was the only way she could cope. But she's the type of dame that'll set you up in a second, and not think twice about it. I sure have to watch my back with this one..."
He tries to help her. Save her. But she plays too many games, until he doubts his own ability to solve the case. Perhaps his own sanity too. "There is a textbook. But no textbook patient". Two parallel worlds spiral out of control, one toppling into another. Doubt leads to suspicion as alternate realities confuse fact from fiction. A witness becomes a suspect. And suspicion becomes the only thing to trust.
Biographies:
Lee van der Merwe
graduated with distinction from the CAPA with training in Drama, Dance and Singing. She has performed with the Cape Dance Company for the past four years, which includes the latest productions: SacredSpace and a Thousand Shepherds at the Artscape Theatre, Grahamstown National Arts Festival, and the KKnK Festival, under the direction of Debbie Turner. Lee was also a dancer, singer, actor, writer, choreographer, and assistant to the director for the Cape Academy of Performing Arts' latest production,
Chasing Shadows
.
In(s)kin/language - directed by Mbongeni Mtshali actor/ movement director Artscape new voices October 2016
#BalletMustFall - dance play by Jared Musiker Performer/ writer/ choreographer/ director September 2016 - Cape Town Fringe Festival (Awarded silver fresh fringe creative production) January 2016 Alexander bar & Theatre
Cape Dance Company - seasonal dancer 2012 - 2014
Between the Lines - directed by Nathalie Vijver Dancer/ actor Grahamstown national arts festival 2014
Trained actor with a Master's degree in Stage Directing from University of Cape Town. Has previously also worked in the casting industry as Assistant Studio Director.
Previous offerings at Alexander Upstairs were:
Bench (2013) by Brent Palmer with Brent Palmer and Adrian Collins
Cock & Bull Story (2014) by Richard Zajdlic & Richard Crowe starring Dylan Skews and Rowan Studti
Fleur du Cap nomination for Best New Director for Bench
Audience Responses
Absolutely phenomenal! Lee van der Merwe was a revelation! More of the same please!
Absolute magic.
Superb production and riveting performances from both Lee and Jared. Wish I could have a second viewing...there were so many layers to ponder...
Really enjoyed last night's show, an intriguing take on mental illness which mixed classic Noir and psychological drama fluently. Strong performances, great use of lighting and sound, all brought together with good use of repetition and pace that spun into a flurry of movement (and props). It was all held together by a precise placement and choreography of actor and actress, with an overall direction that led the characters seamlessly from the surreal Lynchian brand of Noir back to the psychiatric facility, which was no-less surreal. I would highly recommend this to anyone and will definitely revisit the venue for future performances.
The show was captivating, and held my attention for its entirety. Well done to both actors for a superb performance.
An excellent performance. I found myself in the moments of the up's and down's of the story. Holding my breath during the frenetic scenes and relaxing again as the story changed. I would quite like to see it again. Congratulations to everyone.
Something not to be missed. Absolutely amazing and what a talented cast!
Excellent!
This is easily in my personal top 5 shows that I've watched at Alex - eagerly awaiting the next work by this playwright.
Brilliant!!!!!!
I thoroughly enjoyed the show! I'd defintely see it a second time round!