The Kreutzer Sonata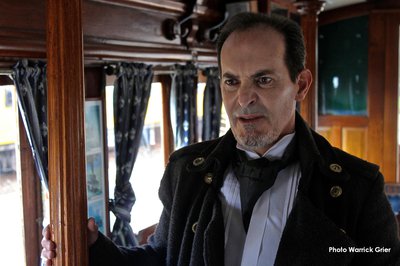 The Kreutzer Sonata adapted from the 1889 novella by Leo Tolstoy, which was inspired by Beethoven's sonata for piano and violin. On a train journey from the country to Moscow, Posdnicheff, a former court official of the Zemstvo, tells a gripping tale of love, lust, debauchery, marriage, jealousy and murder. The show premiered on the main at the 2014 National Arts Festival Grahamstown as part of The Season of Solo plays. The Oscar Pistorius and Shrien Dewani murder trials are shocking reminders that South Africa has a female homicide rate six times the global average with half the women killed by an intimate partner. Tolstoy, widely considered as one of the worlds greatest novelists, gives a startling insight into the psychology behind the facade of love and lust of men.
Media & Reviews
Period drama's theme is just as relevant today
Nicky Rebelo to enliven heady cocktail of Beethoven and Tolstoy
Review
Audience Responses
5*. Nicky Rebelo's performance is faultless and riveting. Bravo Nicky. The subject of patriarchy and angry men (as women take some controls away from them) interests me and I found myself almost hating the play, so disturbing. Attending this play on the same day that I watched 'Calvary' at the Labia was perhaps not a good idea. Today is a day of light humour to balance out yesterday's seriousness! Keep up the good work Alexander Theatre, a huge plus to interest and enjoyment in Cape Town. Liz (64 years of age!)
Simply loved Nicky Rebello's subtle and incisive performance as the terrifying yet personable Pozdnyshev.
I thought the performance was brilliantly executed.
Brilliant! Utterly engaging from start to finish - 85 minutes seemed to whizz by in a moment. Thoroughly enjoyed by all in our party of 4.
I was completely gripped by The Kreutzer Sonata. It was a treat to have my brain so engaged by the themes within the text while feeling the increasing tension of the story line. Thank you, for a superb performance. I travelled from Somerset West just to see the show and it was well worth the drive.
Excellent philosophical monologue. The acting was brilliant.
Brilliant. If only I could see it again, I would be in the front seat. Absolutely loved it. Thank you to the actor and the producers.
Excellent philosophical monologue. The acting was brilliant.
I thought the one man show was tremendous. One could admire such memory and an act from the heart. We arrived early and had a very nice snacky type meal before the show which was excellent, have eaten before at your bar and found the food good. One thing - I think that you need to perhaps work on coffee for after the show. Not every one wants another drink on the way home. You have a very nice venue and a cup of coffee after the show would be great. We were told that to produce 3 capachinos would have taken too long so only one was produced.
I missed it in Grahamstown ...and was very pleased to attend last night. Excellent.Thank you, Kris
Outstanding. Oscar explained completely
excellent performance. wonderful atmosphere. not sure how relevant tolstoy's turgid morality is for today's audience.
Brilliant
Brilliant.
A superb performance, a tour de force by Nicky Rebelo, but, oh, what a cynical character he played! It was totally absorbing.
Excellent philosophical monologue. The acting was brilliant.
quality performance
An outstanding performance. Enjoyed the show tremendously! This is the fifth production I've seen in recent weeks at The Alexander Bar and although I enjoyed the other shows, The Kreutzer Sonata was definitely the best by far!!
Kreuzer Sonata with Rebelo were one of the best plays I have ever seen! What a performance. Tolstoi would be proud. Please let me ever know when he will be on stage again.
Absolutely loved it: a tour de force by Nicky Rebelo
Excellent!
Hi, we all thoroughly enjoyed the performance and are constantly stunned at the talent in our midst!! The only problem was the air conditioning. At the beginning of the show it was really cold and then 10 minutes from the end, I struggled to stop myself from fainting from the heat. It was not a pleasant experience. Thanks, Alicia.
Very good. Will recommend to our friends. General comment: seats are very hard.
A wonderful evening..beautiful words and a consummate performer.
A 6 out of 5 for an enthralling performance. A great marriage of sparkling skill and a great story from Tolstoy! Can't wait for the next one!
excellent script, outstanding acting, rivetting theatre
We both thoroughly enjoyed it, it was a great performance. Its started a big debate on the truth about love and marriage. Thanks, look forward to seeing some more memorable performances at your theatre soon.
Brilliant production!
Nicki was brilliant in his portrayal and the contemporary nature of the material spoke to the heart of the issues. The love /hate/lust theme in marriage and relationships is so NOW. Unfortunately it does rather show men as emotionally trapped and unevolved which is what I guess is a reality the male species don't like having reflected back to them!I am a fan of Jennifer Steyn big time and now her partner--Nicky is added alongside her. What a clever editing and writing of script--absolutely engrossing! I would have liked more of that exquisite music--it was threaded in ever so briefly! Many thanks Peter
Great performance. Well done.
I don't know how the play was because I didn't see it. I am foreign and got lost and couldn't reach my friends because they didn't have signal inside your building. I arrived 3 minutes late and was told I couldn't go in and that I'd "ruin the show" if they let me in. They made me wait 90 minutes for my friends and instead of coming to take my order they made me get up and go to another table because"someone else needed it". I spent 90 minutes there and no one took my food order. When I finally saw my friends, they told me the show didn't start until 7:05pm and they had saved me a seat right near the door and it wouldn't have been an issue. Thanks for ruining my night.
We thought the entire performance was truly memorable - incredible acting throughout the 90 minutes, very thought provoking play, superb production in every respect. We feel so privileged to have been in the audience.