The Hucksters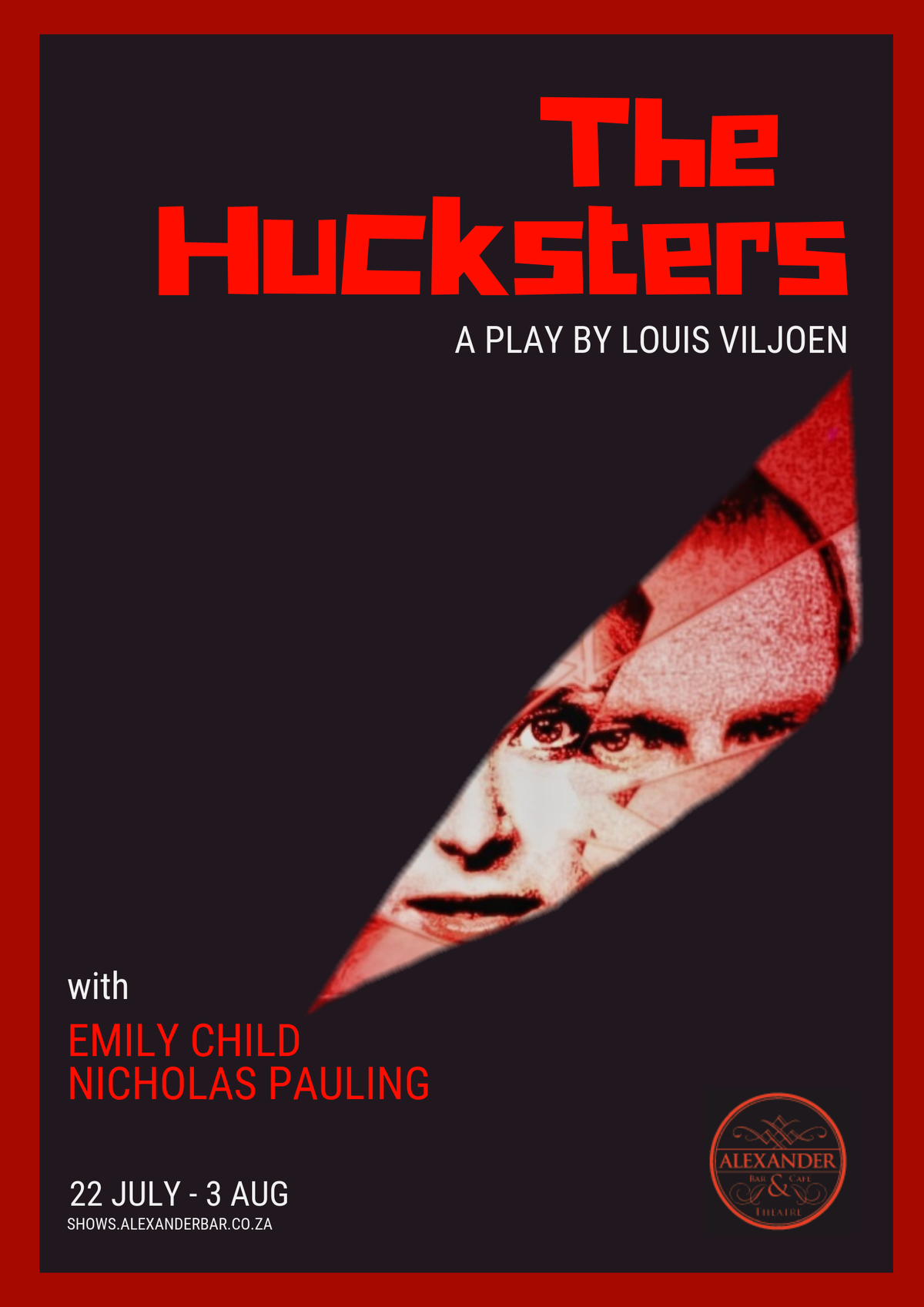 The Hucksters is an acid-tongued exploration of a casual sexual encounter gone awry. A man and a woman meet after not seeing each other for years and what starts off as a romantic, booze fueled evening, slowly begins to unravel into a psychological mystery as an incident from their shared history rears its head. The mistakes of the past become the horrors of the present as these two broken people dig into their previous lives and the lies that lead them to each other.
The play is written and directed by Louis Viljoen (The Kingmakers, The Pervert Laura, The Demon Bride) and stars award winning actors Emily Child (The Pervert Laura, The Road To Mecca , Contractions) and Nicholas Pauling (A Steady Rain, Blue/Orange, The Father).
Louis Viljoen - Writer/Director
Louis Viljoen is a Cape Town based playwright and director. He has written and produced numerous plays including, The Bile Boys, The Frontiersmen, The Verbalists, Champ, Porno 88, The Kingmakers, The Pervert Laura, Oh Baby, I'm A Wild One, The Emissary, The Eulogists and The Demon Bride. He is also the writer of Rob van Vuuren's internationally acclaimed one-man show, Dangled, which was invited to the 2017 Brighton Fringe Festival. Viljoen has won Fleur Du Cap Theatre awards (Best New South African Script) for Champ (2013) and The Kingmakers (2015). He was the recipient of the Rosalie van Der Gucht Best New Director award for his plays, The Kingmakers and The Pervert Laura.
Emily Child - Performer
Emily graduated from the University of Cape Town in 2007 with a Theatre and Performance Degree, specializing in Acting. Since then she has worked independently and as a proud member of acclaimed Cape Town based theatre troupe – The Mechanicals. Her work has garnered her numerous awards and nominations including the 2015 Fleur Du Cap for Best Actress for the role of "Laura" in Louis Viljoen's The Pervert Laura last staged at the The Fugard Theatre. Other theatre projects include Lear, written by William Shakespeare and directed by Guy De Lancey, Champ, written by Louis Viljoen and directed by Greg Karvellas, which travelled to the Edinburgh Festival in 2013, as well as LA based Zombie Joe's Underground Theatre and The Mechanicals' co-production Urban Death, directed by Jana Wimer. Emily's one -woman show, based on Dorothy Parker's short stories, A Certain Lady was directed by Greg Karvellas and performed around Cape Town in 2014. Emily was recently seen at The Baxter Studio Theatre, Grahamstown and Hilton Festivals in Born in the RSA, directed by Thoko Ntshinga as well as Mike Bartlett's Contractions, at The Alexander Bar's Upstairs Theatre, directed by Greg Karvellas in February 2016. In 2018 she worked with Karvellas again on Athol Fugard's Road to Mecca at the Fugard Theatre with Sandra Prinsloo and Marius Weyers. Emily's recent film projects include Beyond the River, directed by Craig Freimond, and most recently, BBC's television series Troy - Fall Of A City as well as the HBO series - Warrior- conceptualized by Bruce Lee and to be released in 2019.
Nicholas Pauling - Performer
Nicholas has appeared in A Steady Rain, The Pervert Laura, Blue/Orange, Champ, The Fontiersmen, Epstein, Twelfth Night and Shakespeare in Love. He toured the UK with The Tempest and Hamlet at the Royal Shakespeare Company, Canada with Waiting for the Barbarians, and the United States with a production of The 39 Steps. Nicholas won the 2007 Fleur Du Cap Award for Best Actor for his role as Mozart in Amadeus. His television credits include Black Sails, Dominion, You Me and the Apocalypse, Bluestone 42, Book of Negroes and most recently the HBO series Warrior. His film credits include Black Butterflies, Doomsday, Death Race 2, Challenger and was recently seen in The Dark Tower with Matthew McConaughey.
Media & Reviews
"the language is not for the faint-hearted, nor are the situations it describes conducive to joy. But the articulate quality of the dialogue, and the polish with which Child and Pauling deliver it, are the stuff of which great theatre is made."

Review of 'The Hucksters' by Beverley Brommert
"A booze-fuelled bit of rumpy pumpy has progressed to a cautious confrontation at the point that we, the audience, arrive on the scene. And by the time we leave, we've been drawn into a full-bore meditation on memory, myth and manipulation. Except meditation sounds calming, and The Hucksters is not."

Review of 'The Hucksters' by Karen Rutter
Audience Responses
Brilliant. Thought provoking performance! The writer held nothing back. Well done!
When a show keeps me curious 4days later I know I've seen something quite extraordinary.
Loved it! Great Script and acting. Really great performance and intense topic. Well done.
60 mins was just right. Outstanding writing complimented by amazing acting Thank you
A thought provoking masterpiece.
I think i held my breathe during the entire show!!! It was incredible, brutal, honest and funny ...Absolutely amazing! Well done to the screen write and actors.
An interesting evening and a great script.
Good but perhaps Emily Child could have not spoken her lines quite so fast
One of the best shows I've seen there!
LOUIS VILJOEN IS SOUTH AFRICA'S LEADING PLAYWRITE.....COMPARABLE WITH Miller, Giraudoux, Claudel, O'casey......I would love to read the text of THE HUCKSTERS,,,,,,or revisit the prodcution to watch THE EPIC PERFORMANCES OF EMILY CHILD AND NICHOLAS PAULING........
Brilliantly written & performed! Well done Louise, Emily, Nicholas & the producer! Very deep, thought -provoking & a must see for anyone working in the mental health field.
Intense and impressive , not for sensitive viewers!
Very intense play, but I feel that the actors and the director did not really do it justice. The quick-fire dialogue was too slick to be believable - nobody interacts "in real life" like that! And there was little emotional connection between actor and his/her exploding "traumas". Also, too few physical gestures to show these emotional outbursts. The initial short monologue was not a success! But - gave us much to talk about afterwards...
Very interesting. I could relate to a lot of it. well worth seeing.Not sure if all that swearing was necessary though..
Loved it! Great Script and acting. Really great performance and intense topic. Well done.
A really intelligent and captivating show. Riveting dialogue!
Fantastic performances and thrilling writing. Deeply satisfying experience.
Loved it! Great Script and acting. Really great performance and intense topic. Well done.
Gobsmackingly thrilling , something to chew on for a long time , each moment has you reeling .. huge congrats to all concerned .. fine fine work ... thank you!!
So entertaining my friend and I did not manage to finish our beers.
Another thought provoking script by Louis Viljoen with excellent dialogue.
Absolutely, unbelievably profound. Had me in a deeply pensive mood for the rest of the night afterwards. Not many shows have had this effect on me before.
Loved it! Great Script and acting. Really great performance and intense topic. Well done.
Best Viljoen play in a while; Child and Pauling know how to play this stuff, although I did feel that machine-gun approach didn't always serve play - though my companion felt it did. Louis does dig deep and we could all identify if not with specifics then with the memories of past..er...indiscretions, and the feelings they dredge up. Thanks. Wishing you a good run!
Witty writing strong cast but the male voice is prioritised in an issue that is intrinsically female. To such an extent that it becomes reliant on shock factor gut punches which pushes you further away from feeling.
Much enjoyed, definitley the edgiest show I've seen.
Fabulous....would give it a 6..
The pacing was so finely-wrought, I took a glass of wine in and forgot to drink it.
Quite unexpectedly serious ... great actors
bad languish well presented . It was a slick well acted show!
Brilliant acting. Thought provoking. Love Louis Viljoen's work.
Superb writing, superb acting and staging.
Superb Theatre. Stirring writing and sensational performances. Excellent design!